Greeting to everyone! We at the Longhorn Investment Team hope that our readers are safe and healthy with their families during this current global pandemic. We hope that you all are indoors and abiding by shelter-in-place and social distancing policies while washing your hands. Additionally, we thank anyone at the front lines of the crisis working in hospitals and other industries taking care of the many people in need of your support.
At this time, the Longhorn Investment Team's operations have been paused due to our school's closure for the rest of the semester. However, we continue to monitor and update our portfolio during this time, while sharing training resources with our new members. While we monitor and update our portfolio, we wanted to share some market insights to our readers one more time this semester to update them on the latest. With that said, let's answer some questions.
When do I enter the market for investing?

People keep waiting for the stock market to hit a bottom so that they can enter the market at an optimal time.

However, the market won't bottom out until people adjust to the new normal and after the hiatus of business.
These mini-bull runs and short squeezes will continue as each new stimulus policy and positive headline passes.
Q1 numbers are going to drive the market down as the GDP plummets and unemployment skyrockets.
The volatility looks high in the market…but recently, the market's been going up!

It is worth remembering that the market 12 years ago took several months of violent moves up and down before ultimately putting in a lasting bottoming on March 9, 2009 (Goldman Sachs chief equity strategist).
So then when will the stock market rebound?

Investors tend to agree that we don't know when the stock market has bottomed until it is in the rearview mirror, but generally,

until the growth rate of coronavirus cases begins to flatten and drop off, do not expect the market to rebound any time soon.

Watch transport stocks, weekly jobless claims, reopening of schools, corona growth slowdown, stock buybacks, and Warren Buffet to monitor the situation and the economy
Who's hurting right now?

Oil prices

plummeted with the Saudi Arabia and Russia price war

Restaurants, retail, and entertainment

will suffer short-term

Airlines

are suffering as barely anyone is flying places with social distancing

Cruise lines

are tanking right now with zero revenue this quarter

Silver and gold

(precious metal) market isn't as safe anymore but could buy if bottomed

Many companies and investors went into this episode highly leveraged

With these bad times, they're less likely to survive and an increase in defaults is probably
An increased number of margin calls and forced selling will occur as well
The magic question: How should I invest in the market right now? (These are simply suggestions.)

"Intermittent purchases on down days throughout the volatility could make sense for investors with longer time horizons" (Invesco analyst).

Invest in Chinese equities

since they are in recovery mode

Invest in tech

since growth potential is larger e.g. FAANG stocks

Invest in content

e.g. Netflix, Apple, Facebook
Buy

quality recession-proof stocks

e.g. necessities!

Open your cabinet and see what you have.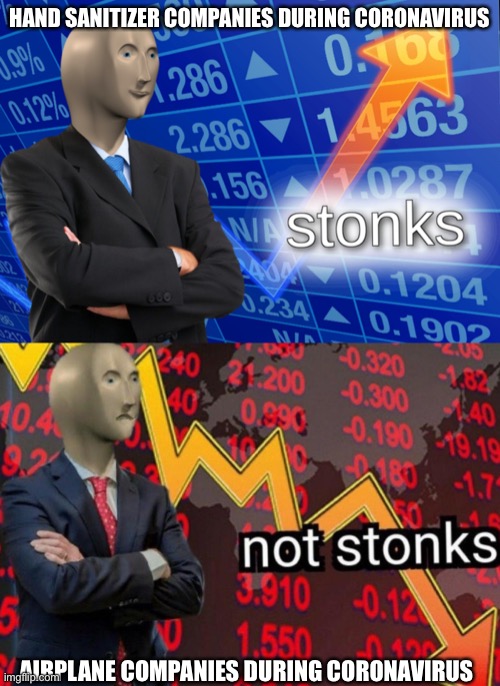 Thank you so much for reading our quick update! Stay tuned for future articles, posts, and updates, and consider following us on our social media (Facebook, Instagram, LinkedIn)!
To our readers, consider donating to Feeding America and Combat Coronavirus: CDC Foundation Emergency Response Campaign.
Feeling anxious during this climate? Care for Your Coronavirus Anxiety is a great resource that addresses many anxieties that people have at the moment.
Incidentally, as this is my last semester at the University of Texas at Austin, I wanted to take an additional moment to thank our dedicated and supportive readers for their ongoing support, and for being a strong motivation to our team. It has been a privilege to be the Longhorn Investment Team's Editor in Chief and Vice President of Marketing. Stay safe and remain optimistic. This is all temporary – a bright future is ahead. – Shravan Davuluri (@ShravDav on Twitter for market and politics updates)